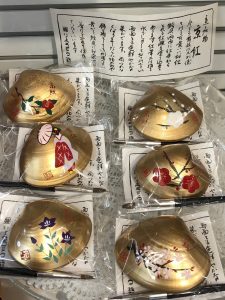 Real seashell hand painted lipsticks are now on sale.
There are six pattern types of the seashell lipsticks and each picture is drawn on the surface of the real seashells.
So there is no same shape of the product.   A short lipstick brush is also included.
After you finished up the lipstick, it can be used for the gorgeous accessory case.
Inside of the seashells has two types of the lipstick colors.
The red side is a crimson color and the dark green side turns dark red on your lips.
Moisturize the small area of the inside of the seashells with the lipstick brush or your figure.
Then transfer the color to your lips.